All sentient beings, regardless of their gender, have Buddha's nature and deserve equal opportunities to receive Buddha's teachings. With this genuine belief, H.E. Yeshe Sangpo Rinpoche and H.E. Khandro Pema Chodron continued to establish the Samye Memorial Buddhist Nunnery Vihara after founding the Samye Memorial Buddhist Vihara and the Samye Memorial Buddhist Monastery.
The Nunery Vihara is another exhibition of Rinpoche and Khandro's unbounded equal compassions and kindness toward all sentient beings. As the first nunnery of the Dudjom lineage, the Nunnery Vihara houses hundreds of dormitories and classrooms, and is capable of accommodating one thousand nuns for receiving and practicing the precious teachings of the Dudjom lineage. So far, hundreds of nuns have received the formal curriculum, including the eight-year pre-school courses of listening, speaking, reading, and writing of Tibetan language, the production of Mandalas and Tormas, and the practice of Dharma. After the pre-school curriculum, they have to pass stringent examinations to further receive the nine-year formal curriculum, including the profound teachings of Mahayana and Vajrayana, starting from Bodhicharyavatara to Guyagharva Tantra. These courses were based mainly on teachings from the lineage of H.H. Dudjom Rinpoche.
All the nuns currently residing in the Nunnery Vihara are faithful disciples who travelled far and away from India, Bhutan and Nepal. This fact reveals clear evidence that the root Guru's virtues and devotion to the rigorous Sangha education have been deeply rooted in faithful followers' minds. In the near future, the Nunnery Vihara will be home of over a thousand nuns and cultivate well qualified nun teachers, who will benefit even more sentient beings.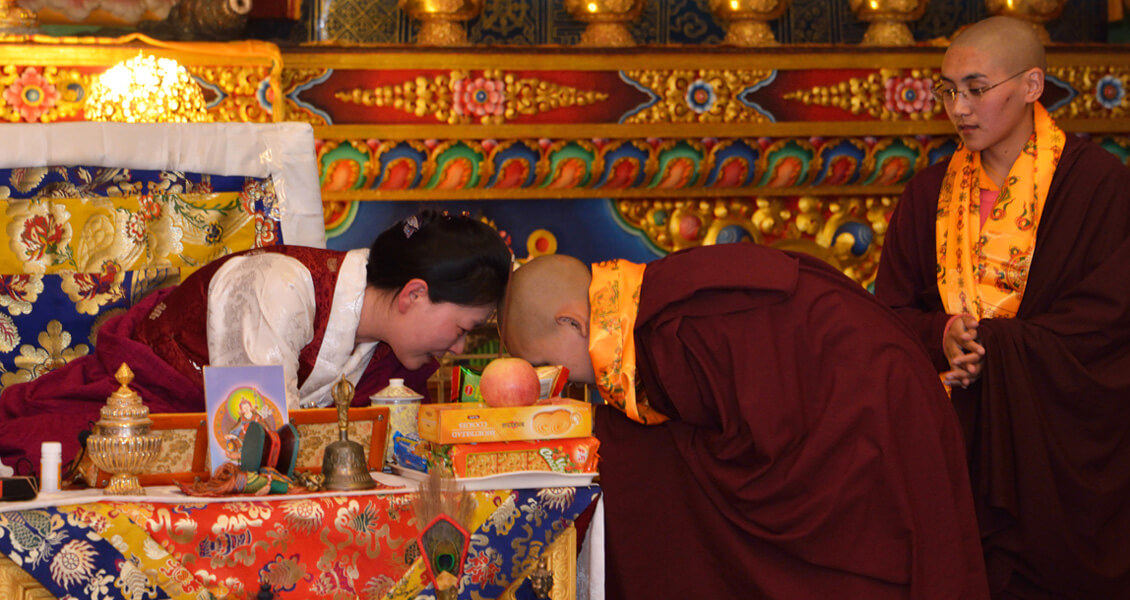 When the nuns finish the whole day of courses and practice in the Nunnery Vihara, they show no signs of weariness in appearance but truly happy smiles. They form in groups to circumambulate the Monastery and the Eight Stupas, or turn the Prayers Wheels, so they can practice Buddah's teachings in every moment. The Nunnery Vihara is thus the best representation of Buddhists' pure land.